FREQUENTLY ASKED QUESTIONS
ABOUT GAY PHONE SEX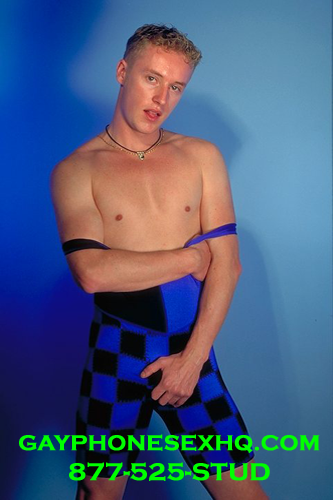 How does the service work?
Quite simple. You call and tell our receptionist about the call you're looking for - with as much information and specifics as possible, so we can find the perfect guy for your call. We'll quickly take care of your payment, and then you'll be connected for your call. The entire process is quick and toll-free.
I have some pretty specific ideas about the guy I want to talk with.
That's fine. Our receptionists have lots of experience finding the right people, and we have a very large group of guys to choose from. That's how we're able to hook up almost anyone to the right guy. That's one of the secrets to our success in the gay phone sex business - we can connect people with the right call better than any of the others out there.
My interest is "special."
We've got you covered. Our specialty is connecting the types of phone sex calls that other people won't even deal with. From unusual fetishes, to the taboo or forbidden desires you may not have been able to satisfy in the past, it's not a problem. And our guys love those calls as much as you.
What if I want to talk but don't want actual phone sex?
Then you've found the right place. Our guys aren't just great when it comes to phone sex - they're smart and fun to talk to. And if you have something special you'd like to talk about, like bi-curious issues, just let the receptionist know and we'll get you in touch with the right guy for that.
But phone sex is expensive.
Well, it's certainly not free. But no quality entertainment is free. How much would it cost to take someone to dinner or to a club? Quite honestly, it would probably cost a lot less than a great phone sex call. And after you've finished your call, you can just hang up and go to bed. The secret to getting the most for your phone sex dollar is to have a budget for your calls, so you'll only spend what you can afford, and can relax and just enjoy the moment.
How do I pay?
The easiest way is to use a credit card. We accept all major cards.
I'm concerned about my personal information.
We understand the need for privacy and the worries some people have - but think of it this way. We wouldn't be able to stay in business, and keep our repeat callers, if we didn't keep everything private and discreet - our customers know their information is safe. We never give personal info to anyone. Ever.
For phone sex with hairy, masculine bears, call:
888-320-BEAR

For phone sex with cute, hot young twinks, call:
888-3-18BOYS

For nasty gay studs or for bi-curious help, call:
877-525-STUD
Must be 18+ to call.

Role-playing phone fantasies are for entertainment purposes only.
Copyright GayPhoneSexHQ.com, 2012. All rights reserved.